Vasectomy Reversal Success Rates
The first question that patients often have when they walk into my office for a VR consultation is "Can you reverse a vasectomy?" While vasectomies were historically considered to be a permanent procedure, the rapid advancements in male fertility and sexual health procedures now give us the ability to reverse the effects.
At The Turek Clinic, not only are we able to provide vasectomy reversals, but we are doing it at an unprecedented success rate. With Reversal Specialist Dr. Turek, the vasectomy reversal is 100% when moving sperm are found behind the vas deferens during vasectomy reversal surgery.
As one of the top experts in the field, Dr. Turek has written and published a number of articles on the success rates of men with vasectomy reversal surgery. With the procedure, there are two success rates that need to be considered:
Patency Rate: Return of moving sperm to the ejaculate after vasectomy reversal
Pregnancy Rate: The successful attempt to have a baby.
Patency Success Rate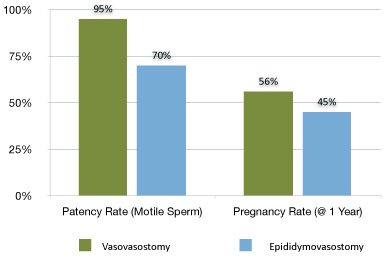 The patency success rate is the rate that best reflects the surgical decision-making knowledge and skill during vasectomy reversal, and should be considered carefully when evaluating a microsurgeon. Dr. Turek has advocated in his research publications that patency rate should be defined as the presence of moving or motile sperm in the ejaculate after vasectomy reversal. This is because "dead" or non-moving sperm could simply be the "wash out" of old sperm in the system and therefore may not indicate that the system is actually "patent" or working after vasectomy reversal. In addition, since only motile sperm will lead to pregnancy, this measure makes the most sense to assess. Be sure to ask your surgeon exactly how they measure patency rate after vasectomy reversal and whether these rates are from their personal experience with the technique.
To get a better sense of the true quality of Dr. Turek's procedural skills, it helps to look at the patency success rates in several different ways:
The results over time.
The results in the best possible setting – when moving sperm are found at the testis vas deferens during vasectomy reversal.
The results based on the age of the vasectomy at the time of reversal.
Achieving Sperm with Time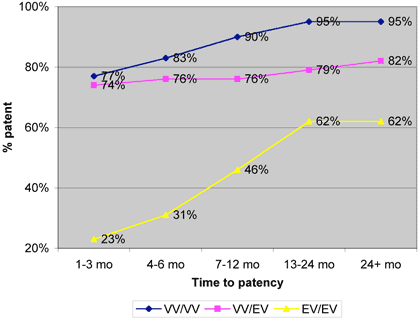 Figure 2 illustrates the fraction of men who achieved motile sperm in the ejaculate with time after vasectomy in Dr. Turek's recent vasectomy reversal case series. Notably, 95% of men with a vasovasostomy show motile sperm in the ejaculate within 1 year after vasectomy reversal. Interestingly, almost 80% of these men achieve motile within 3 months of vasectomy reversal.
Achieving Sperm in the Best Possible Setting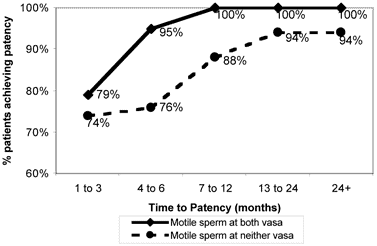 Dr. Turek's vasectomy reversal rates in the best possible setting are illustrated in Figure 3. Notably, when moving sperm are found at the vas deferens during vasectomy reversal, 100% of Dr. Turek's patients have successful patency (motile sperm) within one year after vasectomy reversal. When non-motile sperm are found, Dr. Turek's patency success rate is 94% at 1 year after vasectomy reversal.
Achieving Sperm Based on Vasectomy Age
A third way to examine patency success after reversal is to examine how the return of motile sperm to the ejaculate changes with vasectomy age. From Dr. Turek's published experience, the chance of needing an epididymovasostomy is 3%/year for every year after 5 years of vasectomy age (Figure 4). Thus, a 10-year-old vasectomy has roughly a 5 x 3%=15% chance of needing an epididymovastomy. A 20-year old vasectomy has a 15 x 3% = 45% chance of epididymovasostomy. Interestingly, breaking with the dogma in the field, Dr. Turek's most recent research has shown that this trend toward higher rates of epididymovastomy with increasing vasectomy age appears to "flatten out" after 20 years of vasectomy age (Figure 4). In other words, the need for epididymovasostomy during reversal of older vasectomies does not continue to rise but remains stable. This is good news for men with older vasectomies, as they are may not necessarily need an epididymovasostomy at the time of reversal.
Pregnancy Success Rates
The pregnancy success rates after vasectomy reversal depend not only on the patency rate, but also on known or unknown female factor issues, including female age. Among Dr. Turek's couples, the average female age in a case series analysis was 35.5 years and the average interval from vasectomy to vasectomy reversal was 13.5 years. Among men with vasovasostomies on both sides, 56% of partners became pregnant within 1 year of vasectomy reversal. Among men with a vasovasostomy on one side and epididymovasostomy on the other side, 52% achieved a pregnancy within 1 year, and among men with epididymovasostomy on both sides, 40% achieved a pregnancy by 1 year after vasectomy reversal. Importantly, these rates did not include pregnancies that occurred after the first year, which if included would make these rates even higher.
Vasectomy Reversal Success Stories
In case you are not familiar with Vasectomy Reversalist Dr. Turek and his work, you might be interested what other people have to say about him. There are many online sources of review boards, where you can research his reputation as vasectomy reversal specialist. Here is what some people who had a vasectomy reversal by Dr. Turek said:
Reversal with Dr. Turek After 14 Years and One Failed Reversal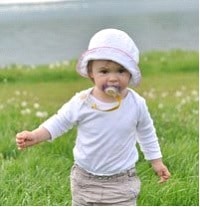 "I do not usually write a review but with Dr. Turek I felt I had to. I have a unique situation and wanted others to know what a great find Dr. Turek is. I had my original vasectomy over 14 years ago and 12 months ago I had a vasectomy reversal that had failed!
Then I was lucky enough to find Dr, Turek. Simply put he is THE BEST. When I think of a doctor I want someone who is good at what he does and well bedside manner is second but not with Dr. Turek. From the moment you meet him, he makes you feel at ease and gives you confidence not with fancy words or throwing out some nationwide success numbers. But confidence because you know when you walk out of his office he is the best. He shows you HIS results and what HE has done. Not what the Urology community as whole has done. In other words, he stands on his own work and his own results.
Update:
Well since that time my wife and I were able to get pregnant and had a very healthy Baby Girl! After trying for only ONE MONTH!!! After we had our daughter. Now My wife and I were able to get pregnant again! and again after only trying for one month! … There truly are no words to describe how incredible Paul Turek really is. He is amazing and if you want a family your very best opportunity to have this dream is with Dr. Paul Turek!!! What he brings to your life is just that…. LIFE!"
– Michael W., California
Vasectomy Reversal Superstar Doctor
"Dr. Turek is a superstar as everyone knows and the office is simply stunning.  You won't get better care than you get at this facility.  The place has a very intimate and personal feel that I think reflects his personality.  He obviously loves what he does and it shows in his work.
I would highly recommend him and his staff."
Amazing Urologist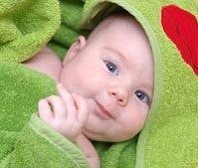 "I have been in the medical field for quite a few years & was blown away by Dr. Turek. He did a vasectomy reversal on my husband & not only are we pregnant 5 weeks after surgery, he was truly wonderful from the get go!!
We did quite a bit of research before finding him & were beyond impressed by his resume and the number of times he was published! However, we had not decided if we were going to use him or not until we met with him. He is EXTREMELY personable, friendly & makes you feel SO SO comfortable! He spent ample amounts of time with us and we never once felt rushed."
– Kimberly, September
A Consult Worth Your Time
"I went to see Dr. Turek about reversing a 10+ year old vasectomy. We sat down and pored through data. We examined costs and risks of the procedure. We looked at data for the last several years. He showed me success rates and failure rates, and regression analysis showing the factors that affected success rate. Then we compared these same factors to my own medical history and proceeded with the surgery.
The process was exactly as he said it would be, and all my decision-making was done with reams of medical data in front of me. The research he's compiled and published on success rates would be true of almost any other doctor I might have chosen to see. But Dr. Turek took the time to go through it all, explain all the terms to me, and never made me feel rushed.
He's about as well published an expert in the field of male fertility as you might find, and an incredibly nice person as well. Even if you go for an initial consult (which I did first) before you make any decisions, it's well worth your time."
Update: we got pregnant within eight weeks
Update 2: We have a beautiful 1 year old baby girl as a result of Dr. Turek work.
⦁ S.S., San Francisco, California