Why Choose The Turek Clinic?
Dr. Paul Turek is an internationally-renowned leader in male fertility treatment and research. He is board-certified by the American Board of Urology (ABU) and is an active member in a number of professional associations. Dr. Turek is considered by many to be the best male fertility doctor in the USA and among the top male infertility specialists in the world.
Unparalleled Among Men's Sexual Health and Male Fertility Clinics
You will receive timely, cutting-edge care and the wisdom of medicine joined together to not only treat, but actually solve, the problems of reproductive age men.
You will be in the hands of Dr. Turek, an internationally recognized male fertility doctor and urology specialist who can translate reams of medical information to make sense for you on an individual, personal level. He applies that information to your treatment in a way that not only makes sense for you, but is convenient for you. Healthcare, tailored to fit you like a suit.
The clinic boasts state-of-the-art procedures, techniques and equipment, as Dr. Turek has pioneered or popularized many techniques, including vasectomy reversal, vasectomy, sperm mapping and sperm retrieval.
Dr. Turek uses secure, proprietary web-based technology to follow and regularly monitor your recovery after surgical procedures, no matter where in the world you live.
Best success rates worldwide. Unlike most doctors, Dr. Turek is a fellowship trained and board certified specialist who "publishes" what he "preaches," certainly the best measures of a "certified" doctor.
The clinic is created as a sanctuary in which medical care is delivered the way it used to be, when doctors had time to talk and listen to patients and learn of their issues. Because understanding what makes you tick can help you tick better.
Are you uncomfortable in doctor's offices? The Turek Clinic is the most non-medical medical setting that you will ever experience. There is free wireless internet access, plasma screen TV and a view of the San Francisco Bay for you in the reception area.
For your convenience, most medical evaluations are coordinated and performed at a single office visit. In addition, the majority of the follow-up care is by telephone, email or by a secure internet portal on the website. By helping you avoid lengthy commutes to a doctor's office, web-based care helps you keep your valuable time yours, so that you can do what you do best.
Coming from overseas to see Dr. Turek? The Turek sees international clients regularly and his staff will coordinate your care from before you leave home to after you return home.
Dr. Turek is an internationally recognized leader in men's health. He is an advisory to the National Institutes of Health, the Mens Health Network, Fertile Hope (Livestrong) and President of the American Society of Andrology. He not only knows what is happening in men's health, he helps define it!
Do you feel that if you knew enough about your care that you could make better decisions? Your questions are encouraged and patient education is valued, because an informed patient makes the best choices.
Proud Member of SFCC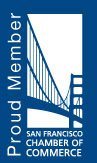 The Turek Clinic is a proud member of the San Francisco Chamber of Commerce.
The Turek Clinic is also accredited by the Better Business Bureau (BBB). Click on the accreditation image to see the complete BBB review.
Getting help from Dr. Turek at The Turek Clinic is easy. Take the first step and schedule a consult with the male fertility expert Dr. Turek today.