Hidden Sperm FNA Mapping | The Turek Clinic
Hidden Sperm FNA Mapping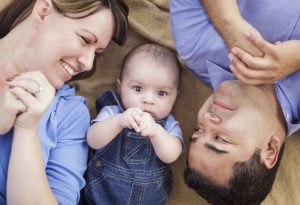 Creating Beautiful Families When Other Procedures Have Failed
Nothing is more rewarding than helping a man, diagnosed as sterile, realize his dreams of becoming a father. Male fertility expert Paul Turek's breakthrough Sperm Mapping technique gives hope to couples whose previous infertility treatments were unsuccessful.
Based on his research, Dr. Turek found that some men thought to be sterile actually have usable sperm — the problem is the sperm can be in hard-to-locate "pockets" that go unnoticed during traditional or microdissection testicular sperm extraction (mTSE) procedures.
Dr. Turek's goal was to develop a technique to "map" out the location of the sperm in the testicles, making it easier to retrieve and use for IVF-ICSI at a later date. Dr. Turek has compared Sperm Mapping to a GPS system in a car.
A recently published study of his Sperm Mapping technique showed that Dr. Turek was able to find sperm in nearly 1/3 of men who had failed even the most aggressive conventional sperm extraction procedures. The overwhelming majority of those men had their dreams of becoming biological fathers come true.
A Minimally Invasive Approach
Sperm Mapping provides valuable information about sperm production but in a much less invasive, less painful and less stressful way than even a simple biopsy. The in-office procedure is performed under local anesthesia using fine needle aspiration, or FNA, a technique that is currently popular in the diagnosis of breast cancer. FNA Sperm Mapping takes about 45 minutes to complete, and the recovery is significantly easier than that of a conventional biopsy. Patients have less discomfort and can resume their everyday activities quickly.
Optimal for Long-Term Health and Wellness
While traditional biopsies involve creating an incision, opening up the testicles and removing tissue, Sperm Mapping is incision-free, less invasive, less painful and less stressful for patients. Knowing the location of the sperm prior to retrieval minimizes the volume of testicular tissue removed to acquire sperm.
Conserving as much tissue as possible is better for the long-term health and survival of the testis. It can help preserve a man's testosterone levels, which can be jeopardized with larger, more extensive procedures that involve multiple surgical biopsies.
World-Class Care
In the face of what can be a very personal, sensitive time in a couple's lives, Dr. Turek is devoted to making every patient feel comfortable and confident about their care. He understands that patients often have questions and concerns, and he is very thorough with his answers. Dr. Turek's warm, caring demeanor and renowned expertise offer reassurance to couples hoping to grow families.
You Deserve the Gift of Parenthood
If you have experienced the devastation of failed infertility treatment or have been diagnosed with azoospermia, know that this is not the end of your story. Dr. Turek can help put you on the path toward parenthood.
To learn more about how Sperm Mapping can help you expand your family, Dr. Turek invites you to schedule an informational consultation at one of his practice locations. Please call or email The Turek Clinic today to schedule your visit.